The nature and culture experience
KORA - WORKSHOP in the Gambia
with Jalikebba Kuyateh

(click on the photo to listen)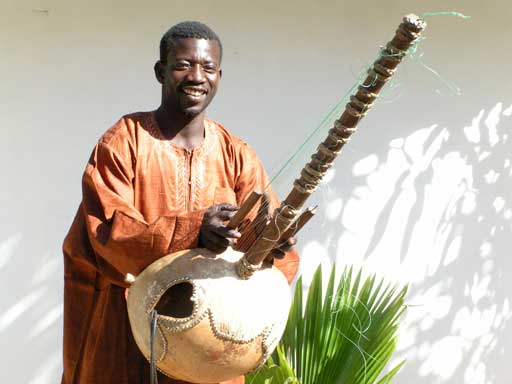 Jalikebba was born and brought up in a griot family in the Gambia
and has played the Kora ever since. He is sought for playing on ceremonies,
marriages and festivals. He has played with many groups
in africa and also got his own cd`s.
Jalikebba presently is the main performer at the Tanji Village Museum
in Tanji / Gambia where also the workshops will take place. He has been
teaching people from africa and abroad for many years. "The students
success is my concern" is his motto.
The Tanji Village Museum is an unique centre where both the natural history
and traditional culture of the Gambia are presented in an intersting and
accessible way.
Tourists, school groups, gambians and local people will all find something
to see and do here because there is so much to find out about the Gambia,
its culture and music, its beautiful nature with all the birds, fish, plants, trees,
insects and the people who lived here in the past.
Apart from the workshops Jalikebba loves to give a voluntary guide to
his students to visit the important places in the Gambia, like the National Museum,
Abuko Nature Reserve and so on; and of course the beach side where you
can have a swim or relaxing time!
For more information or questions please contact Jalikebba Kuyateh:
or call him at 00220 7711201